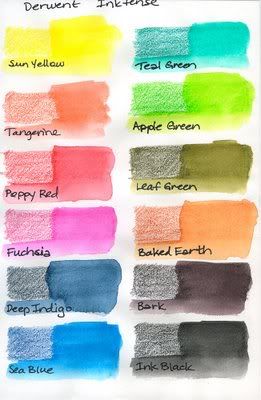 There are several kinds of Derwent pencils,the color soft and the inktense for example. The inktense you can use with water and terpentine and the color soft with terpentine.

The inktense colors are very vibrant and full of pigment as soon as you start using them with water. Using them with terpentine gives a more soft end result. I think I prefer the inktense pencils and using water but on a stamp the less water is better and with these koi brushes you easily use to much water.
The downside with terpentine is that you erase also the stamp lines so it gives a dirty look on your stamp. Perhaps I used too much terpentine?